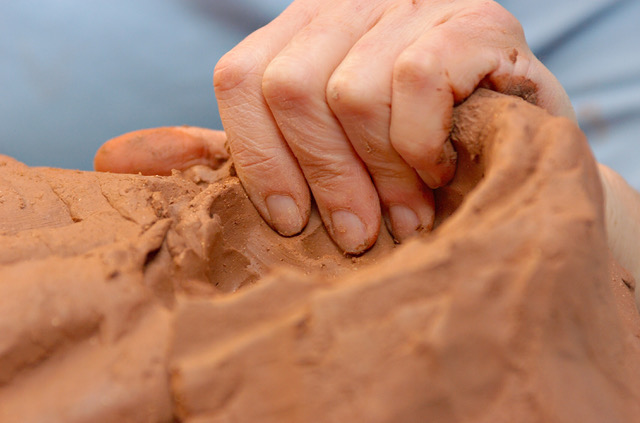 Sherez's art is about the essence of the human journey as experienced by the individual and the collective. Having lived on four continents, and a direct descendent of generations of immigrants and refugees, Zahava embraces all cultures, traditions and the highest level of spirituality. Her experiences have taught her that humanity is all one. Her influences are many but include Brancusi, Isamu Noguchi, Eva Hesse, Rumi and The Guides.
Zahava's work appears in private and corporate collections in the U.S, Israel, The Netherlands, Australia, Corsica, Argentina, Puerto Rico, and Mexico. She is the recipient of numerous awards and has shown her work from California to New York in such venues as: The Discovery Museum, CT; Catharine Lorillard Wolfe Art Club, NY; The American Artists Professional League, Salmagundi Club, NY; SculptureSite Gallery, CA; St. Mary's College Museum of Art, CA, and many more. Internationally, she has exhibited in Paris and Corsica.
Born in Argentina, Zahava grew up in Israel, lived on both coasts of the US. She now has studios in Oakland, CA and Chapala, MX. 
Zahava is tri-lingual.
I was born into a historically persecuted people. I have experienced immigrations, wars, oppression, loss and lived in four countries. While the cultures I have been exposed to taught me the magnificent differences between them, the most important thing I learned is how profoundly alike we are.
Scientists, psychologists, cardiologists, hospice caretakers, clergymen/women, Joseph Campbell, channeled information, fractals, kabbalah, and my personal and ancestral experiences have been my teachers, showing me that there is an energetic field that connects all and everything.
To translate these ideas and emotions into art using shapes and colors requires guidance – I find it in my meditations. The idea itself dictates the materials I use, e.g. to emphasize the energy that we are beyond flesh and bones, I use bronze to represent the solidity of the body, combined with highly texturized and reflective resin polymer.
While I know my story is uniquely mine, I also know that it is an amalgam of the collective, another point in a fractal geometric pattern; the energy field that unites all affects us as one. We are much more than meets the eye.
It is on these truths that I focus in my art. 
2021 – "The Future of Queer", PRPGMX Gallery, Mexico City, Mexico
          – "imPossible", PRPGMX Gallery, Mexico City, Mexico
          – Zona Maco – Latin America International Art Fair, Mexico City, Mexico
          – Solo show, DabArt Co. Gallery – Artsy.net, online
          – Apero Gallery Catalogue, February 2021, online
          – Independent & Image Art Space, Contemporary Gallery, Chongqing, China, online: independetimage.org, @inde_image?
          – "Her Story", New York, NY, Manhattan Arts International, online: https://www.youtube.com/watch?v=HOj7de4KhQ4&ab_channel=ManhattanArtsInternational
          – "Figurative Art National Exhibition", Dallas Metro Arts Contemporary, 1412 14th St, Plano TX 75074, USA
          – "Identity", ArtFluent, online: https://www.art-fluent.com/identity
          – "The Equinox", NESA – New England Sculpture Association, online: https://www.nesculptors.org/the-equinox
          – "Intergalactic 2", ShockBoxx Gallery, Hermosa Beach, CA, USA
2019 – Peninsula Museum of Art, "Sculpture Now", Burlingame, CA, USA
          – SculptureSite Gallery, "Sculpture Now", online
          – ACCI Gallery, "Painted Poems", 2-person show, Berkeley, CA, USA
          – Bioneers Conference, Marin Veterans Memorial, San Rafael, CA, USA
2018 – Santa Clara University Art Gallery, "Beyond Borders", gutfrendcornettart.com, Santa Clara, CA, USA
          – Peninsula Museum of Art, Pacific Rim Sculptors Group Annual Exhibit, juror: Brigitte Micmacker, Owner, Sculpturesite Gallery,  Burlingam, CA, USA
          – APERO Gallery, "Balance", International Juried Exhibit, 2nd Prize, online exhibition and printed catalogue
2017 – ACCI Gallery, "Balance & Boundaries", Berkeley, California, USA
2016 –  St. Mary's College Museum of Art, "Social Justice: It Happens to One, It Happens to All", Moraga, CA, USA
2015 – Mémoire De L'Avenir, "Screening // Screaming", 5-Artist Show, Paris, France
2010 –  ACCI Gallery 2010 National Juried Exhibition, Juror Maria Meua, SFMOMA Artist Gallery, Berkeley, CA, USA
          – San Joaquin Delta College, "2D 3D Exploration in Color and Design", Juror Carrie Pilto, Assistant Curator, Painting & Sculpture, SFMOMA, Stockton, California, USA
2009 – Mission Cultural Center for Latino Arts, "Future Landscapes Designed by Women/Paisajes del Futuro Diseñado por Mujeres", San Francisco, California, USA
          –  Joyce Gordon Gallery, "Colored Girls Only, A Celebration of all Women", Oakland, California, USA
2007 – ACCI Gallery, "Obsession – Works of Passion and Fire", Berkeley, California, USA
          – Upstream People Gallery, "9thAnnual Faces International Online Juried Art Exhibition", www.upstreampeoplegallery.com 
          -ACCI Gallery, "Somebody", Berkeley, California, USA
          – Orinda Art Center, "Women as Prophets", Orinda, California, USA
2006- Prescott-Joseph Center, "Expect Respect", Oakland, California, USA                      
2005 – Taking The Leap,"Deciphering the Code", Emeryville, California, USA
2004 – Pacific Rim Sculptors Group, "California Dreaming", Juried by John Toki. San Francisco, California, USA
2003 – Pacific Rim Sculptors Group, 600 Townsend, Juried by Brigitte Micmacker & John Dennings, San Francisco, CA, USA
          – Pacific Rim Sculptors Group at The Ruth Bancroft Garden, Walnut Creek, California, USA
2002 – Craft & Cultural Arts Gallery, "Oakland Portraits Then and Now, 1852-2002", Oakland, California, USA
          – Pacific Rim Sculptors Groupat The Ruth Bancroft Garden, Walnut Creek, California, US
2001 – Clos Pegase Winery & Gallery,"Art for America", art exhibition and auction benefiting victims of 9/11, Calistoga, California, USA
          – Oakland Art Gallery, "Reconstructing Reality, Artists Response to 9/11", Oakland, California, USA
          – Mill Valley Sculpture Garden Gallery, "Wind and Water", Mill Valley, California, USA
1994 – Westport Nature Center, Annual Art Exhibition, Westport, Connecticut, USA
1993 – Catharine Lorillard Wolfe Art Club, "97th Annual Open Exhibition", Juried by Lynne Atlas Wittkin, Elaine Lavalle, Carey Boone Nelson, New York, New York, USA
          – Society of Connecticut Sculptors, Inaugural Show, Lyme Art Association,Old Lyme, Connecticut, USA
          – The American Artists Professional League, "65th Grand National Exhibition", Leo Yeni, Exhibition Chairman, Jury of selection the National Board of AAPL,Salmagundi Club,
            New York, New York, USA
1991 – The Discovery Museum, "31stAnnual Barnum Show", Bridgeport, Connecicut, USA
1990 – Paint & Clay Show, "89th Annual Juried Art Exhibition", Juried by Carlus Dyer & John Matt, New Haven, CT, US
2021 – Circle Quarterly Magazine, "Being 2", Award of Excellence
2018 – APERO Gallery, "Balance" 2nd Place Artist
2017 – Manhattan Arts International, "Her Story 2017", Award of Excellence 
2007 – Upstream Gallery, 9thAnnual Faces International, "Special Recognition" Merit Award, juror Prof. Bradshaw, Omaha, Nebraska, USA
2004 – Sculptural Pursuit Magazine, "1stAnnual Sculpture Competition", Honorable Mention, Carbondale, Colorado, USA
1994 – Art Revue Magazine, "Cover Contest", Honorable Mention, New York, New York, USA
2018 – The Healing Power of Art & Artists, "The Rewards of Teaching Art to Homeless Seniors"
2018 – APERO Gallery, "Balance" International Juried Art Exhibit, Online Catalogue
2018 – Renée Phillips, The Artrepeneur Coach, "Artists Who Use Unconventional Materials to Create Art"
2018 – Santa Clara University Art Gallery, "Beyond Borders", gutfrendcornettart.com, Santa Clara, CA, catalogue
2016 – St. Mary's College Museum of Art, "Social Justice: It Happens to One, It Happens to All", Moraga, CA, USA
2010 – Best of America Sculpture Artists and Artisans Vol. 2, Kennedy Publishing, Williamsburg, VA, catalogue
2008 – CURVE Magazine, April Vol. 18#3, Open Studio, by Heather Gillgan, San Francisco, CA, USA
2007 – Best of America 2007 – Sculpture Artists and Artisans Vol.1, Kennedy Publishing, Williamsburg, VA, USA
2006 – Prescott-Joseph Center, 5thAnnual Women's Art Show "Expect Respect", Oakland, CA, USA, Catalogue
2005 – SMART, Art News from Springer-Croke Fine Art, September 2005, San Francisco, CA, USA, Interview
2004 – Sculptural Pursuit Magazine, "1stAnnual Sculpture Competition", Carbondale, Colorado, USA
2002 – Bay Area Business Woman newspaper, San Francisco, CA, USA
          – "Women-Owned Art Galleries Balance Creativity and Commerce", by Deonne Kahler
          – "Zahava Sherez, Sculptor", by Barbara Snow
2001 – Park Day School, "Secret Gardens of the East Bay", Catalog, essay by Stephen Most
1994 – Art Revue Magazine, "Cover Contest", New York, New York, USA
1993 – The American Artists Professional League, "65th Grand National Exhibition", Salmagundi Club, NY , catalogue
          – Catharine Lorillard Wolfe Art Club, "97th  Annual Open Exhibition", New York, New York, USA, catalogue
          – Society of Connecticut Sculptors, Inaugural Show, Lyme Art Association, Old Lyme, Connecticut, USA, catalogue
1990 – Paint & Clay Show, "89th Annual Juried Art Exhibition", New Haven, Connecticut, USA