The "InBodied Light" Story, Chapter 4
As I began to increase the size of my work, some challenges presented themselves. My years of working with various materials, constructing support for my own work and that of my students, and experience working with manual and electric tools came in very handy when faced with the complications of creating the largest sculpture.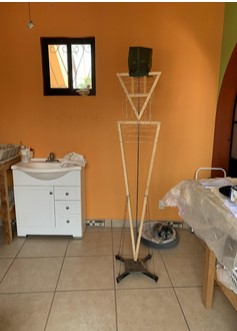 It took many days, many sketches, numerous hands-on ideas, but I finally came up with what I believed would be a light but stable inner structure/armature to serve my purpose. 
By December 2020 with the help of Gerardo (metal worker), Ricardo (carpenter), and Fernando (all-knowing-hands-on-wonderful-guy) the core for a 7 ft sculpture was ready to go.
Next, I needed bulk and substance on top of the armature to create the  rudimentary 3-D design. That also had to function as the support for the final design made out of a thin layer of clay. 
As minimizing weight was paramount, I decided to use bubble wrap for bulk and shape, burlap as a holding layer, and a strong sealer to hold it all together.  
In my head, and on paper, it all worked really well, but this was the moment of truth… Would it work?
Ten days later I had a pretty stable core and support. I was thrilled!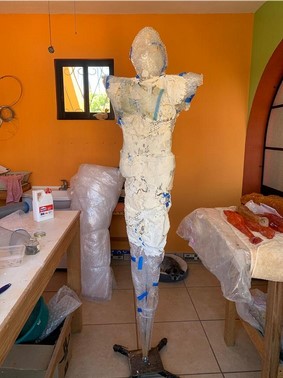 I began working with the clay, constantly struggling with gravity and the dry weather. Plus, being only 5'3" I had to do much of this standing on a ladder to reach the head and shoulders. 
It was a new process of creation, an adventure, and such a learning experience! 

By May 2021 Being #8, in clay, was ready to be driven to the foundry.
Fernando, Ricardo, and Christofer helped me pack and transport 'El Gigante' (The Giant) as we lovingly called it. 
The first challenge was getting it down the stairs and into the van.  (I don't have images of that step, as I was too afraid to watch!)  

Thankfully all steps worked out well and we arrived safely at the foundry, where Francisco, Lupita, and Jesus were waiting to immediately begin the process of creating the mold and brushing in the first layers of resin before pouring the rest of it into the mold.
By June 2021 Being #8 was born! Coming alive in resin and bronze, it was ready to be shipped to Mexico City for an exhibit at the PRPGMX Gallery, and take part in Zona Maco 2021, the biggest Art Fair in Latin America. 
The entire process was exhausting, exhilarating and very successful.

I couldn't have been happier! Mission accomplished! Or so I thought…
I was asked again: "Are you choosing to continue working on this project?" 

"Yes! But please give me health and strength" was my immediate answer.  

Chapter 5 will be in your inbox in 2 weeks!
To see more and/or purchase a Being for yourself, please visit this online gallery that represents my work in the US.  https://artexcellence.omnipresenti.com