The "InBodied Light" Story, Chapter 5
It was Summer of 2021 and I was feeling good about my progress. I thought I was close to completion as I had successfully created the 7 ft tall Being I was tasked to make.

"Not quite" I was told. "The project in its entirety will include 50 sculptures of various sizes, with 30 of them at 7 feet tall. This will be a global traveling exhibit, to reach as many people as possible, to visually spread the message of Oneness with All, as Citizens of the Light. This work will speak to all religions, all colors, all shapes, all genders – ALL of humanity!"
"Are you willing to keep taking it on?"
What?!?! 
For a while I was stunned, shocked!And then I said…. "Yes!"
I told Francisco, my foundry partner, the scope of this project as was described to me, and after his initial shock, we engaged in think-tanking about the best way to accomplish it. 
We thought best to have a total of 6 different molds for the 7' tall pieces to give us enough variety to end up with a large group of unique sculptures. By May 2021 we had 15 small and medium size molds and only 1 giant one. I needed to get to work.
I was confident I could create 50 one-of-a-kind sculptures, including all 7' tall needed, out of 21 molds as I already have been doing that for the small and medium size Beings.
By using different pigment formulas, different mixed media in the resin, and by working on and modifying each sculpture with manual and electric stone carving tools when out of the mold, each finished sculpture was unique.
Therefore, with a total of 21 molds of small, medium, and large sizes I could create all 50 sculptures to finalize the production of this installation. With that decision, we had a plan!
I asked my team helping me in the studio to create a second armature and embarked on making more larger-than-life-size sculptures, now working on two at a time. 
By mid 2022 I had created another 4 large sculptures, and by August 2022 I'll finish the last one to complete the 6 giant ones. It will be done and in the foundry by late August 2022 so that they can create the last required mold.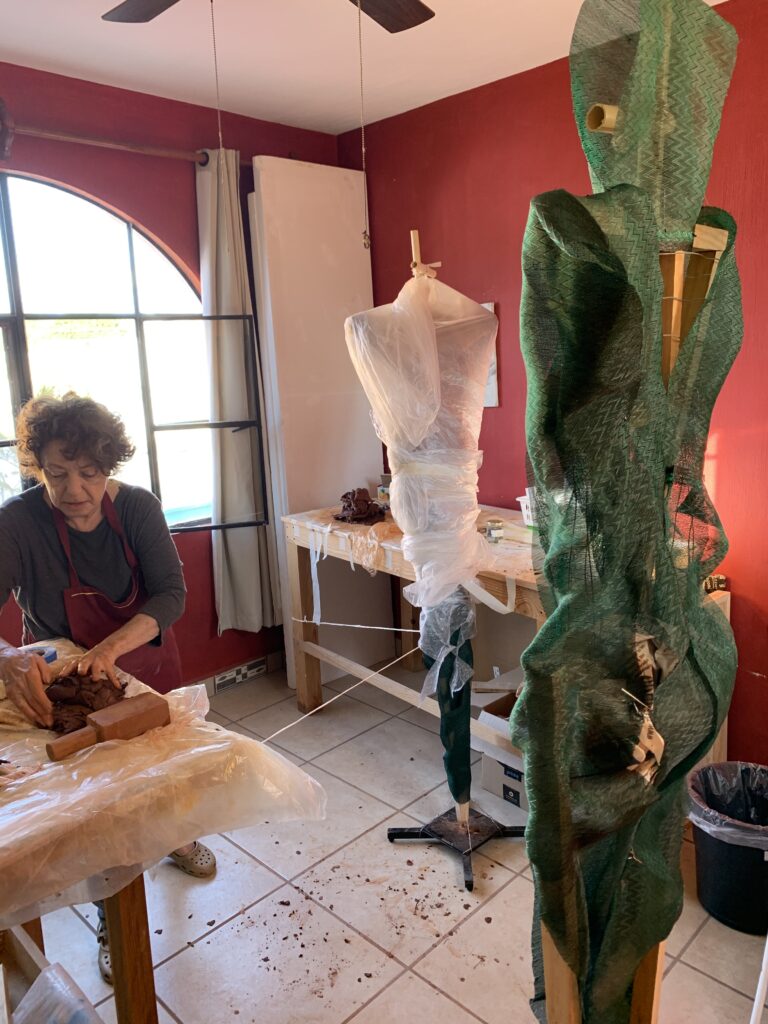 Francisco and his team at the foundry have been working on solving production challenges for months. This is no small task, even for this foundry! Yet I know that with their professionalism, talent, and commitment there is literally nothing they can't do! There is a very clear reason why they were 'chosen' and presented to me in 2017. 
Francisco's goal is to minimize the weight, especially of the larger pieces, since at the trial pouring it took over 75 lbs of resin to cast one giant piece! 
Handling and shipping this large body of work on land and/or sea at this weight would be prohibitive, so the goal is to reduce each giant's weight to maximum 50 lbs.  
Also, Francisco is working on reducing production time to safely reach the goal of having it all finished and ready to be shipped by early 2023. 
Three or four crates such as these would be used to pack and ship these 50 sculptures to the various destinations. 
There is still more, so stay tuned for the next chapter!
To see more and/or purchase a Being for yourself, please visit this online gallery that represents my work in the US.  https://artexcellence.omnipresenti.com