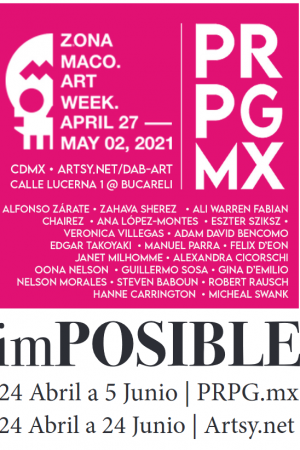 PRESS RELEASE | Visit the exhibition online with Artsy – imPosible – or as a featured part of Zona Maco – Semana de Arte – the international art fair week in Mexico City, Mexico from April 24th (opening) to June 5th, 2021, and online with Artsy.net April 24th to June 24th, 2021PRPG.MX presents imPosible, a collective exhibition of artists in residency who transformed a year of pandemia which closed cultural programming and left artists isolated in their studios.
The group of artists we work with is a mix of what we believe to be the future of queer; artists who exist outside the norms of mainstream society and who care about the representation of their stories being centered in their humanity. We have over 100 artists actively participating in both exhibitions and online programs from Mexico, the United States and Europe. With this group we built upon our core value emphasizing building ethical and sustainable relationships with our artists so they can continue to create and explore.
This year's showcase for Zona Maco – Semana de Arte is a celebration of the community's resilience to continue to progress, create and connect. We present a group of artists who represent a vision of what queer means for the future of humanity. Diversity in backgrounds, identities, generations, careers (emerging, media and established) and passion for their processes. This collective of artists proclaims that we have not disappeared, nor will we disappear, but rather, and in fact, we thrive. We give you the 'imPossible'.
Artists Represented in Zona Maco 2021 | Artistas representados en Zona Maco 2021; Alfonso Zárate, Zahava Sherez, Ali Warren, Fabian Chairez, Ana López-Montes, Eszter Sziksz, Veronica Villegas, Adam David Bencomo, Edgar Takoyaki, Manuel Parra, Felix D'eon, Janet Milhomme, Alexandra Cicorschi, Oona Nelson, Guillermo Sosa, Gina D'Emilio, Steven Baboun, Robert Rausch, Hanne Carrington Reay, and Micheal Swank.
Born to a historically persecuted people, I experienced immigrations, wars, oppression, loss, and lived in four countries. By the time I was 10 I spoke and/or heard people around me speak: Russian, Spanish, Quichua, Yiddish, Arabic, and Hebrew. The many cultures I was exposed to showed me the magnificent differences between them and taught me how profoundly alike we are. These experiences and the lessons learned became my muse and inspiration.I was trained as a figurative/realistic sculptor. In 1993 I created a bronze sculpture called "Flower Arrangement" – www.zahavasherez.com/flower-arrangement/ – (from the series: "I Am So Many") – a divine arrangement of humans in all our glory. This sculpture was the beginning of a long journey using my art to raise consciousness about 'the other', the immigrant, and the refugee. Since 2017 I have been working on the series "InBodied Light". When completed, by 2022, it will include a large body of work of sculptures. With this series I have moved from 'the other' to bringing awareness to equity, equality, and justice for all.Here I am exploring with light and materials our interconnectedness as human beings focusing on impartiality and social justice. These beings are devoid of any identifying human features to avoid the labels imposed on us creating sub-groups that perpetuate divisions, oppression, violence, and disrespect. I use light as a focal element to emphasize the energy within and around that engulfs us as one. It is on these truths that I focus in my art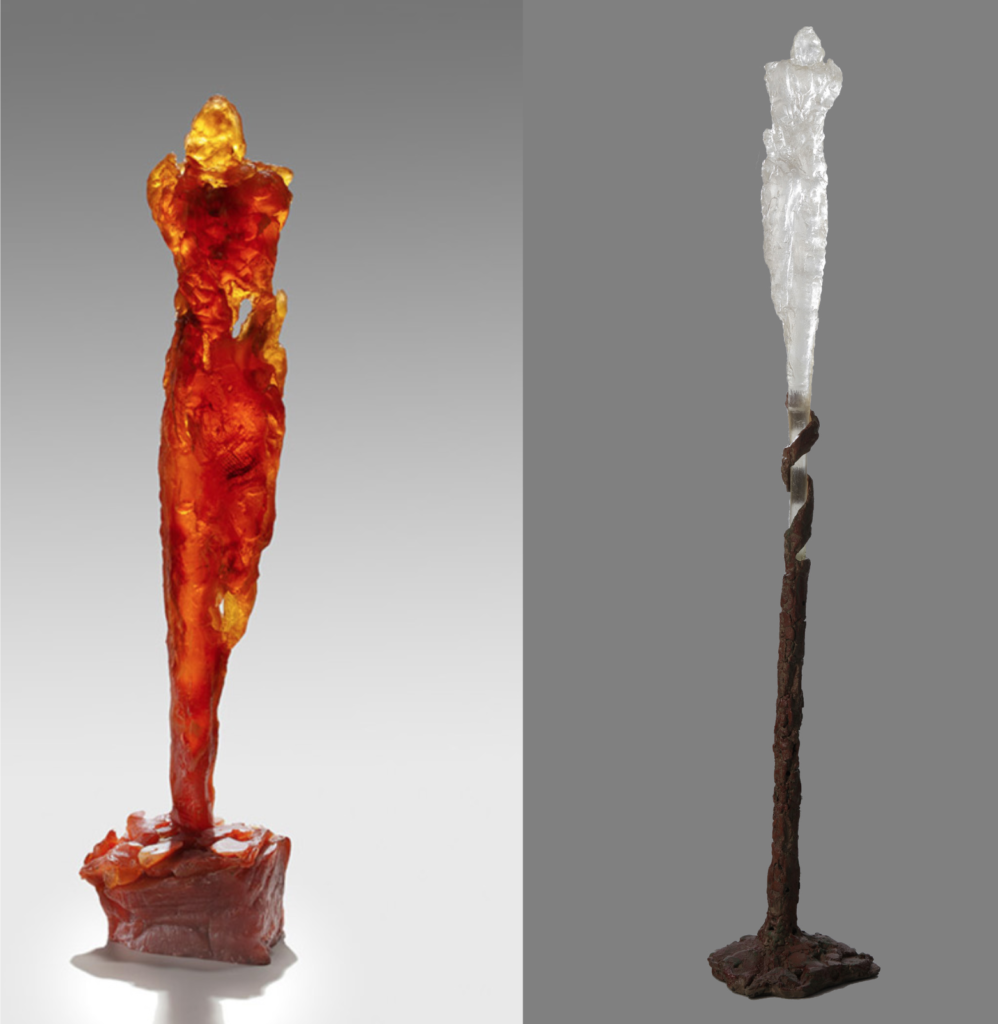 Being 2, InBodied Light series, Resin and mixed media, 61 x 8 x 8 cm, 24 x 3 x 3 cm
Being 7, InBodied Light series, Resin, mixed media bronze, 102 x 13 x 8 cm, 45 x 5 x 3 in
PRPGmx presents imPosible - Zona Maco 2021 - Virtual Opening